Interview vidéo de Corinne Touzet réalisée par le journal La Provence.
Corinne Touzet and Jérôme Anger - Une journée particulière
The actress plays the role of Antonietta with a great sensitivity in the adaptation of the famous movie of Ettore Scola at the festival Off in Avignon.
The success was far from certain. To adapt a masterpiece of the Italian cinema, Une journée particulière , of Ettore Scola for the theater with actors used to television, was crazy. But, the play directed by Christophe Lidon is a success. Corinne Touzet is different from Sophia Loren, except for her looks, but she proves here to be more than just the heroin of the series Une femme d'honneur on TF1.
She moves the public by putting tenderness and sensitivity into the character of Antonietta who is the mother of a large family, always diligent and dominated by a macho husband. Her partner is Jérôme Anger who plays Gabriele (Marcello Mastroianni in the movie). He convinces the public as an brillant intellectual, excluded from the radio because of his homosexuality.
The historial context, 8th May 1938 when Hitler meets Mussolini in Rome and the festivities following this meeting, bring together two vulnerable and solitary individuals, during one day. The clever set-up of white curtains strengthens the acting and the fear of Antonietta to leave her well established environment. The production is sober, simple and rather efficient. Corinne Touzet and Jérôme Anger found each other [...] In 1998 Jacques Weber played Une journée particulière with Françoise Fabian in Nice and afterwards in Paris. This new version has its place in Paris too.
At the Théâtre du Chêne Noir 8bis, rue Sainte-Catherine 84 000 Avignon (Loc. 04 90 86 74 87 ou www.chenenoir.fr) until 28th July 1013.
Source of the article : http://www.lefigaro.fr/theatre/2013/07/09/03003-20130709ARTFIG00497-corinne-touzet-et-sa-journee-particuliere.php
The preferred female "gendarme" of the French people is taking part in the "theatre adventure" in Avignon, which makes her fans very happy. For this first she has not chosen the easy way by playing the part of Sophia Loren in "Une Journée particulière" by Ettore Scola.
Corinne Touzet, the heroine of the television series "Une femme d'honneur", will be on stage of the Chêne Noir during three weeks. She hereby gives us her impressions on Avignon, the festival and her projects.
How do you tackle this first festival?
This represents a real test for me and I am at the same time impatient and scared to be here as it is a real challenge. I am entering a new family, moving from the television to the theatre and Avignon is the "Saint Graal" of the theatre. I have the impression to have earned my stripes by coming here.
Are you familiar with Avignon and "le Vaucluse"?
Sure, I lived in this region in Maubec. I had to move because of my profession which took me mostly to Paris. It is very emotional for me to be here.
How do you feel about this abundance of plays in the "Off"?
I think indeed that there are too many plays. It is difficult to make a choice between all these artists present here and I know that certain groups have to leave before the end of the festival because of lack of audience. There are places that don't even look like theatres anymore.
Will you go and watch other plays?
Yes, I have friends on stage here, such as Clémentine Célarié or Antoine Dulery and Zabou Breitmann and I will go and watch them play. There are fine people here this year.
What are your passions apart from the theatre?
I love the cinema of course and I love going to the festival every year to mix with the american stars. I am passionate about circus as I learned to be a clown at the beginning of my career to evolve in this environment.
Can you tell my about your projects?
I have a few proposals for television movies and I will continue with "Une Journée particulière" in Paris and on tour in France.
Isabelle, heroine of "Une femme d'honneur", is she like you?
In a certain way, yes. Isabelle has a natural authority who enjoys life and who is very maternal also.
This series has allowed me to look upon the profession of "gendarme" and policeman in a different way and to provide people with a better image of them.
« Une journée particulière » every day until 28 July at the théâtre Chêne noir, as from 15h45. Duration 1h25.
Source : http://www.ledauphine.com/vaucluse/2013/07/07/pour-moi-ici-c-est-le-saint-graal-du-theatre
Les deux parties du téléfilm l'Enfant de Personne seront diffusées samedi 22 juin sur France 3 à 20h45.
A ne pas manquer !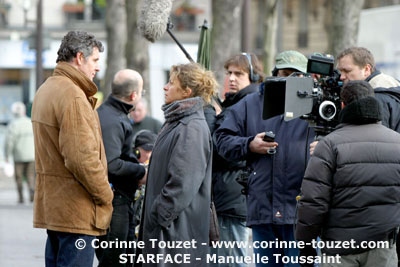 Corinne Touzet fera partie du Jury Fictions du Festival de Valenciennes du 18 au 24 mars prochain.